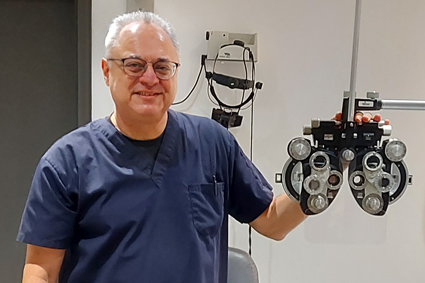 Dr. Manny DeBono, Optometrist
Dr. Manny DeBono graduated from the University of Waterloo School of Optometry in 1983 starting his practice in Cooksville in the present location since 1984.
Dr. Manny, apart from private practice, has consulted and lectured in the Business Development Area of Eyecare in North American and Mexico including work with Optical Conglomerates, Contact Lens companies and Pharmaceutical Agencies.
A Mississauga resident since 1970… growing up in Cooksville graduating from Applewood Heights Secondary School and married at St Patricks Church on Tomken Rd.
A few years ago, a vision for the industry was realized when Dr. Manny merged his practice with the leading Optical provider in Canada, New Look Vision Group specifically a division of NLVG named Vogue, a publicly traded Canadian company.
Decades of fund raising, Rotary, Coaching Rep sports (Love Hockey) and working with related associations has been reduced over time leaving some time for other passions such as Golf, Travel, Gardening and General Handyman task and cars, but the greatest passion has been saved for our beloved Grandchildren and their Mom and Dad and their spouses.
Manny & Cathy have been blessed with a solid family and a plethora of wonderful friends whom collectively bring them the greatest amount of joy along with helping people see better.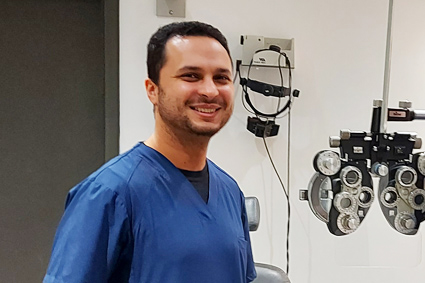 Dr. George Hanna, Optometrist, FAAO, Clinical Director
Dr. Hanna received his Bachelor of Science Honours degree from the University of Toronto. He then moved to Fort Lauderdale, Florida, where he obtained his Doctor of Optometry degree from Nova Southeastern University. During his time in optometry school, Dr. Hanna served as class president and student government president. He graduated with honours and was awarded membership in the Beta Sigma Kappa International Optometric Honour Society. He completed his residency training in Primary Care and Ocular Disease at the Illinois College of Optometry in Chicago, Illinois. Dr. Hanna has also completed his fellowship at the American Academy of Optometry (FAAO).
Dr. Hanna's passions in optometry include dry eye management, glaucoma, pre and post-operative cataracts, LASIK co-management, and management of retinal diseases including diabetic retinopathy. He currently works once a week as a Clinical Instructor at the University of Waterloo School of Optometry in the Ocular Health Clinic.
Dr. Hanna is a member of the Canadian Association of Optometrists, the Ontario Association of Optometrists, the College of Optometrists of Ontario, The American Academy of Optometry and the American Optometric Association.
Dr. Hanna grew up in Mississauga and has been a very active member of the community. During his free time, Dr. Hanna loves to spend time with his family, play basketball, work out, and is an active member of the Church of St. Mary and St. Joseph Coptic Orthodox Church in Richmond Hill.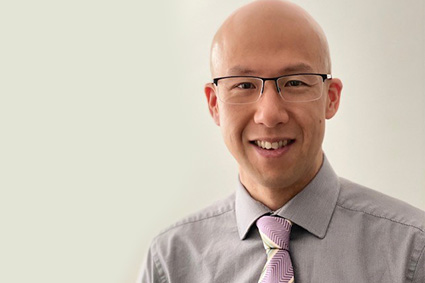 Dr. Diamond Tam, Ophthalmologist
Dr. Diamond Tam was born and raised in Vancouver, B.C. and completed his undergraduate Bachelor of Science degree in combined biochemistry and chemistry at the University of British Columbia, graduating with honours distinction. Along the way, he was awarded several academic awards including being named to the Dean's Honour List multiple years, as well as receiving the Outstanding Student Initiative Scholarship, the President's Entrance Scholarship, and being named a Canada Scholar in Science and Technology.
He completed his medical school at the Royal College of Surgeons in Ireland in Dublin, Ireland, and then completed an internship year at the Hospital of St. Raphael in New Haven, Connecticut, in internal medicine, general surgery, and pediatrics. Dr. Tam went on to complete his ophthalmology residency training at the University of California, San Francisco, where he received the Asbury Award for best clinical paper by a resident. He then went on to complete a subspecialty clinical fellowship at the University of Toronto with Dr. Ike Ahmed, specializing in cataract, advanced anterior segment surgery, and glaucoma surgery.
Following this, Dr. Tam served as a full time Assistant Professor of Clinical Ophthalmology at Stanford University in California, before returning to Ontario. He currently holds an appointment as Assistant Professor of Ophthalmology at the University of Toronto. He actively teaches medical students, residents, and clinical fellows, and has given numerous lectures, presentations, surgical wetlabs, and has been an invited instructor at both local and international conferences and ophthalmology meetings.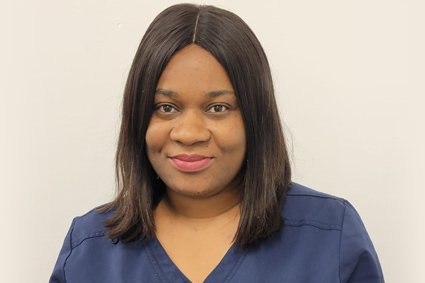 Stella Dike, Ophthalmic Technician
Stella is a Licensed Optometrist form Nigeria.
She has been working in the optical field for over six years.
She enjoys spending time with her family, cooking, and listening to music.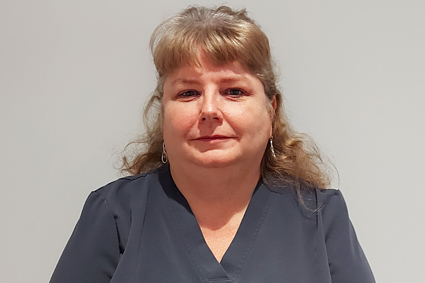 Pam Vincent, Ophthalmic Tech/Primary Administrator
Pam has been working alongside Dr. DeBono since 2008. She enjoys reading, knitting, and travelling. She also enjoys watching Leafs Nation and going to the ballpark to watch the Blue Jays.